Robi and Airtel customers will be able to pay their CWASA (Chittagong Water Supply and Sewerage Authority) bills under Robi Bill Pay Service. All Robi and non- Robi mobile users or those who doesn't use mobile, are able to pay their bills from any authorized "RobiCash Point" logo signed agent points. In such case agents are paying bills on behalf of customers. Both agents and customers are getting confirmation SMS for this mode of payment.
Agents of Robi Cash Points are using the most secured USSD technology to pay the bill.
Agent and Customers can use convenient RobiCash App for this service as well.
Benefits:
Pay your bills for 24/7
No need to stand in banks long queue
This is a secured service since Robi and CWASA are jointly taking care of this service
Around 800 "RobiCash Point" logo signed agents of Chittagong city corporation are currently providing the CWASA bill pay service.
Locations:
Enayet bazar, Bagmoniram, Joynagar, Panchlaish, Baized bostami, Lalkhan bazar, Rahmatgonj, Jamalkhan, Ghatforhadbeg, Dewan bazar, Chandanpura, Chawk bazar, Chktai/Chawk bazar, Bandel, Patharghata, Korbanigonj, Feringee bazar, Anderkilla, Boxirhat, Alkaran, Sadarghat, Madarbari, West madarbari, Patantooly, Dewan hat, Agrabad, Halishahar, Kabilladham, Pahartali, B.S.G., B.S.P. and Government.
BTRC Approved Service Fee to Pay Bills:
| Paid Amount | Service Fee |
| --- | --- |
| 0- 400 | BDT 5 |
| 401 - 1500 | BDT 10 |
| 1501 - 5000 | BDT 15 |
| 5000+ | BDT 25 |
Three steps to pay bill from customer mobile:

Airtel customers can avail this facility by dialing *400*1# instead of *787#
You will be able to pay their bill up to Tk.3,000/- (including service charge) from his own mobile.
Open RobiCash Wallet: Through Own Robi Number

Open RobiCash Wallet: From RobiCash agent points


CWASA Consumer Registration:
Process to pay the bill :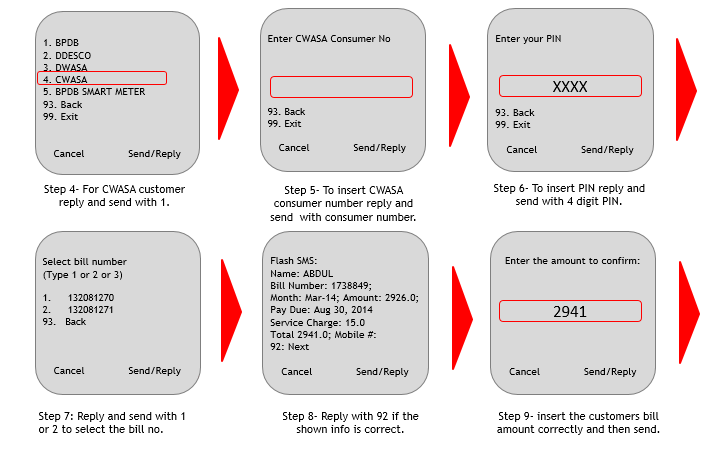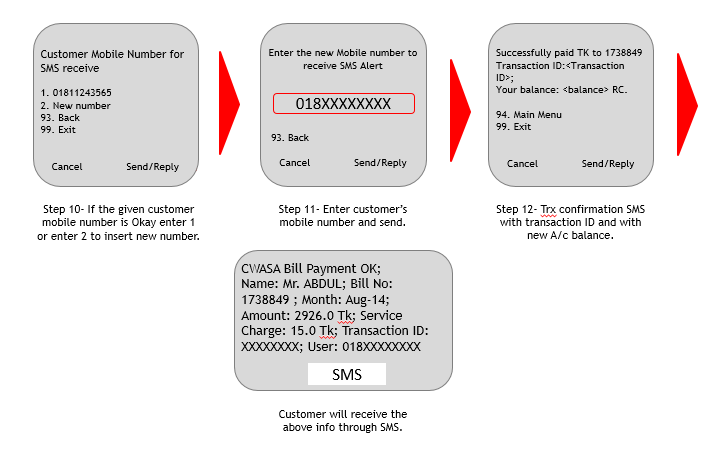 Process to Check the Bill: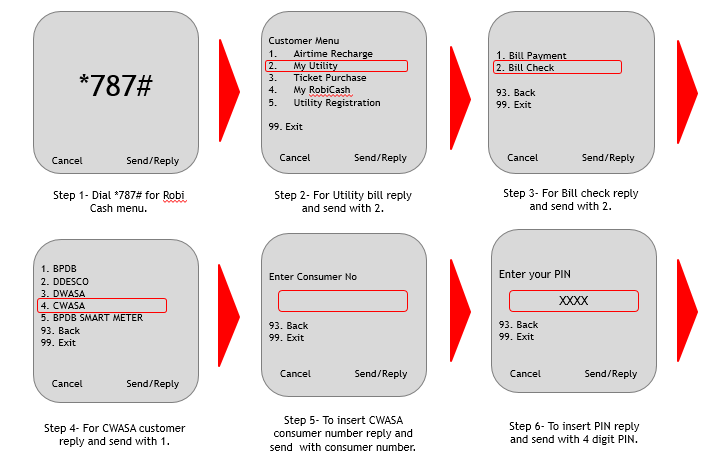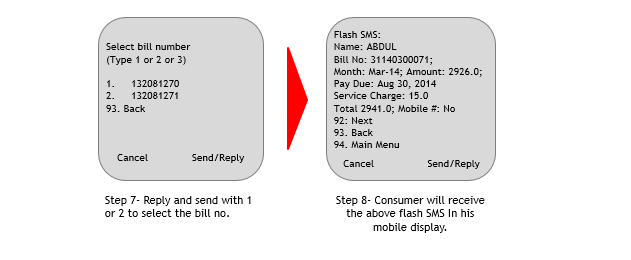 Bill Payment Through App:
Call 123 (from Robi number) or 01819 400 400 (from any number)
** Charge Applicable