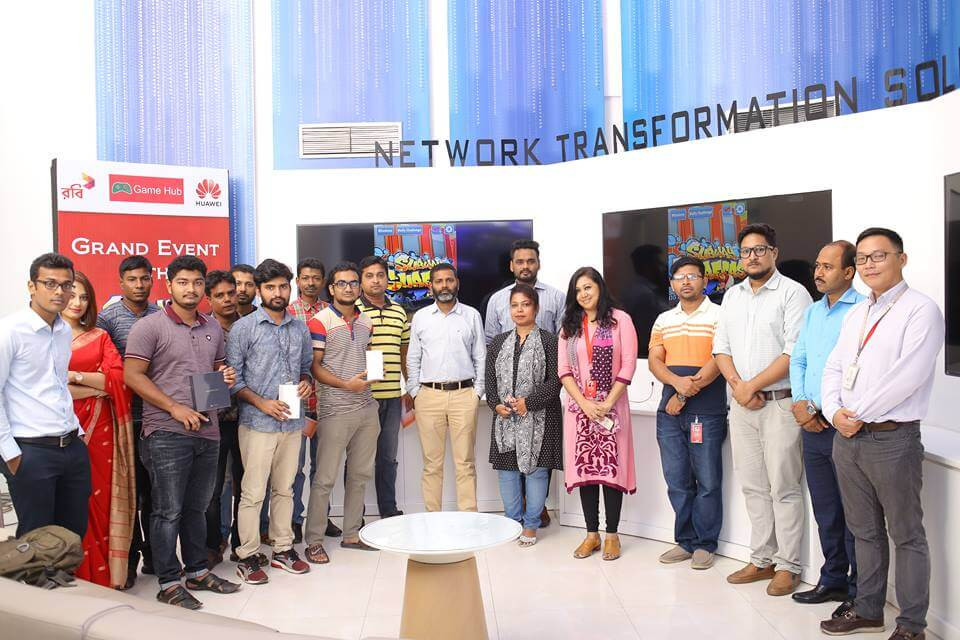 Dhaka, 9 September 2018: Robi's gaming platform, My Play, has recently organized the grand finale for the game hub campaign. In total, sixteen participants took part in the finale; eight participants had won exciting prizes based on their ranking at the end of the finale.
Participants who scored the highest points in each of the four weeks long game competition, were selected to take part in the grand finale. Each of the sixteen participants were given three minutes to play the subway surfers game, based on the participants' score playing the game, the final ranking was prepared.
Md. Asif Mahmud had won a Huawei Mate 10 Pro for securing the first position. Coming second in the competition, Rahimul Hasan Sakib, won a Huawei P10, and the third place winner, Zakiul Hasan Arefin, had won a Huawei Nova 3e handset. The participants securing the fourth, fifth, sixth, seventh and the eighth position, each received an Aarong gift voucher worth 7,000 taka. The grand finale took place at the Huawei customer experience centre in Gulshan.
Robi's Vice President, Market Operations, Mahbubul Alam Bhuiyan, and Huawei's Key Account Director, Stephen Wang, along with their team members welcomed the participants to the colourful event. They also encouraged the participants, as each of them took to play the subway surfers game.
The game hub campaign involved participants playing: Teen Patti Golden, AE 3d Motor, Battle Ludo, and Real Cricket 14, in each of the four weeks that the campaign ran for. The participating gamers were required to post their score on Huawei's Facebook page and/or send the score into the same page's inbox. Based on the set benchmark scores, the winning gamers received 1000, 500, and 100 taka worth reward in each of the four weeks.