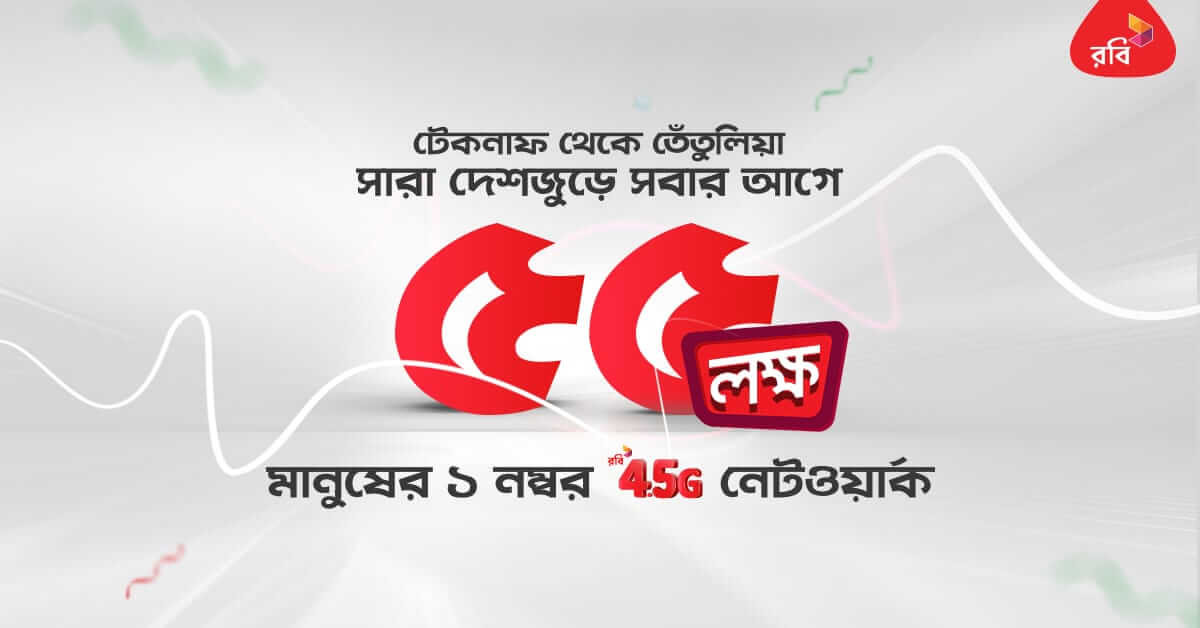 Dhaka, 22 November 2018: A total of 55 lakhs subscribers have joined the country's largest 4.5G network operator, Robi. This phenomenal achievement has clearly made Robi the leader in 4.5G service in the country.
Within less than seven months of the inauguration of 4.5G service, Robi's 4.5G network now covers 99.4% of all the thanas of the country. The company has created the largest 4.5G network of the country with more than 7,300 4.5G BTS sites. Besides, being the only operator to use the U/L900 spectrum technology, makes Robi the undisputed champion in the indoor coverage arena.
For a vast majority of our customers, this has resulted in seamless internet experience without any buffering or lag and crystal clear HD quality voice. Robi could offer this unbeatable experience because it has three times stronger network spectrum compared to its competitors. Furthermore, Robi's supremacy in terms of the number of data sites of 21,145, is the company's secret recipe behind this amazing voice and video experience on our network
Commenting on this great achievement, Robi's Managing Director and CEO, Mahtab Uddin Ahmed said: "I, on behalf of the entire Robi management, would like to take this opportunity to thank each and every one of our customers for placing your trust in us and allowing us the honor of serving fifty five lakhs 4.5G subscribers on the #1 4.5G network of the country. Your continued support inspires us to strive even further to make your life more convenient with the touch of the very best range of latest innovative digital products and services."
Robi took the commanding lead in the industry in rolling out the 4.5G network by launching the service in all the 64 districts of the country on the very first day of the commercial launch of the service on the 20th February, 2018. Rather than making a one-off statement with this bold move, the company continued to honor its commitment to spread the 4.5G network in urban as well as the rural market.