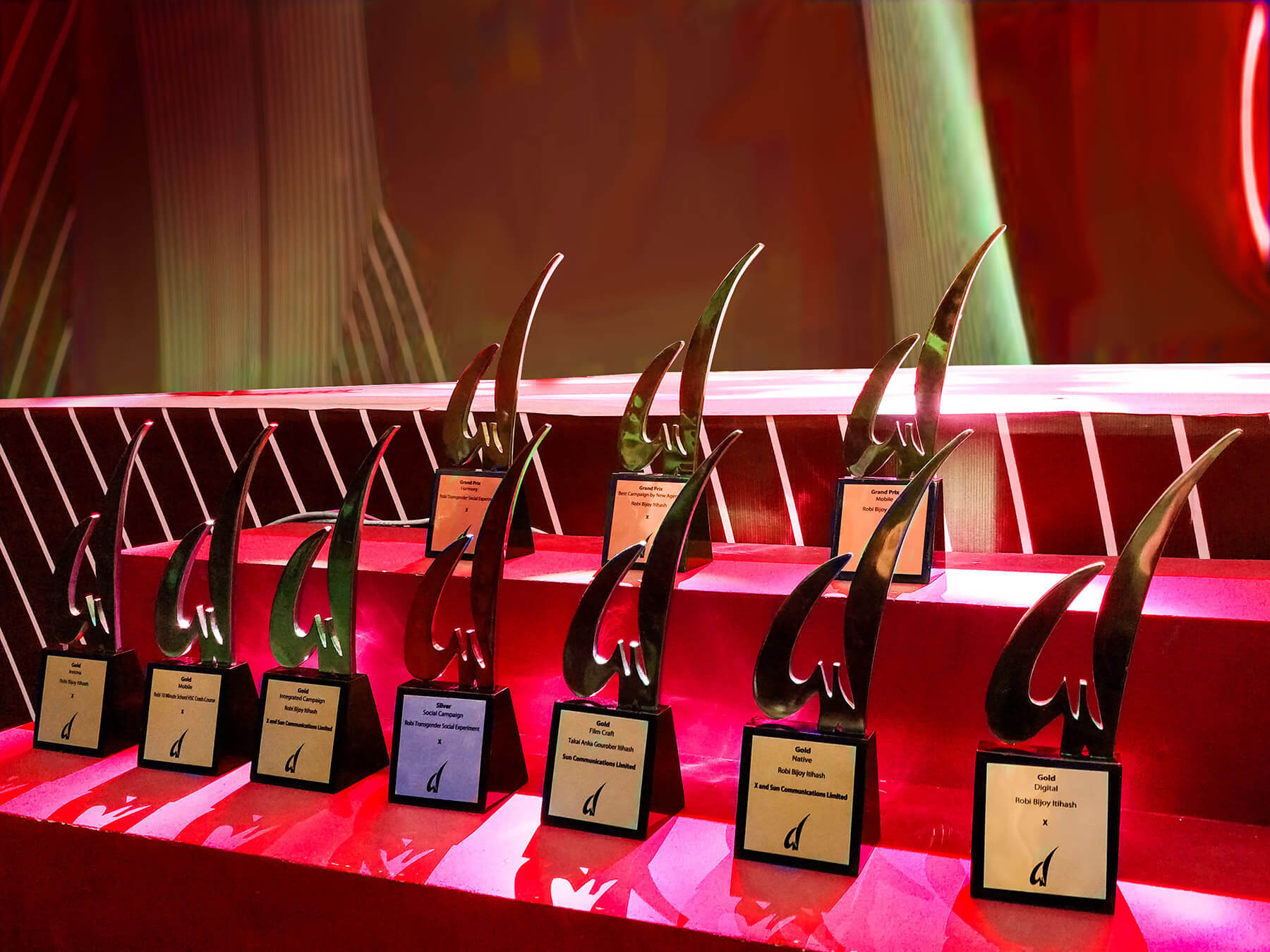 Dhaka, 11 September 2018: Robi and Airtel- both the brands of Robi Axiata Limited, have been recognized with 13 awards in the 8th Commward held on Saturday, September 8, 2018 hosted by Bangladesh Brand Forum, in association with the Cannes Lions International Festival of creativity.
Competing with the top notch brands in the market, Robi's three campaigns Bijoy Itihash, Transgender Social Awareness & Robi-10 Minutes School HSC crash course won three Grand Prix (The highest recognition), six Gold, and one Silver award. Along with that, Airtel, won two Gold Award for regional network campaign under music/ jingle and native category and a Silver award for moment marketing in digital category.
The Bijoy Itihash campaign was launched in December 2017; the campaign attempted to inform the young generation of the glorious history of our country's liberation war by introducing an innovative digital solution. Considering the widespread availability of the taka notes, Robi, integrated key historic moments of our glorious journey from 1952 to 1971 to taka notes from two taka to 500 taka.
Robi won two Grand Prix in the categories of best campaign and mobile, and five Gold awards in the categories of digital, native, film craft and innova.
Besides, Robi won one Grand Prix and one Silver in the categories of harmony and social campaign for the transgender social experiment video it created. The unique humane appeal of the video went viral on the social media.
Robi-10 Minute School HSC crash course campaign won a Gold award in the category of Mobile campaign. The unique proposition of the largest online school, Robi-10 Minute School, as a source for quality digital education content for students across the country, was duly recognized through this award.
The regional campaign's objective was to make the customers aware about the nationwide coverage of Airtel's 4G network. The power of local dialect was used to create relevance and affinity among the local youth. In case of moment marketing, Airtel brand leveraged the multi-screen phenomenon among the youth and scheduled dynamically targeted ads based on real-time scores, game schedules and player data to drive stronger engagement, smarter campaign management and zero wastage. These coveted awards certainly enhances Airtel's appeal among the youth of the country.
Bangladesh Brand Forum celebrates the largest battle of creativity every year through the Commward award. The country's best brands compete with their respective creative campaigns for this prestigious award. This year more than 50 brands with 487 campaigns competed in different categories.