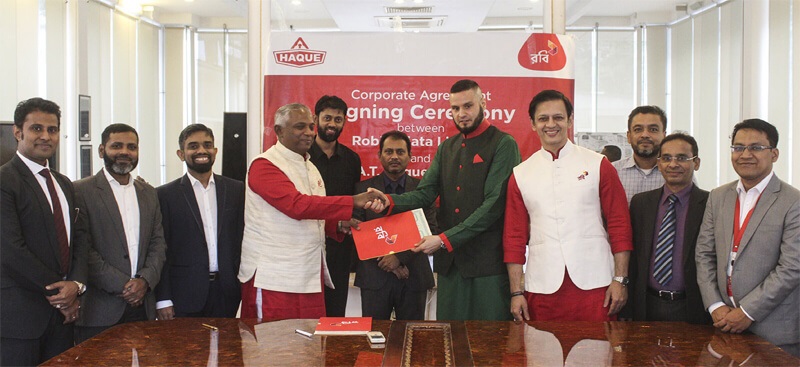 Dhaka, 8 November 2018:Country's leading food brand A.T. Haque Limited has recently subscribed to Robi's corporate solutions using the Mobile Number Portability (MNP) facility. As part of the agreement, A.T. Haque Limited, will enjoy Robi's corporate solutions, special call rate, special data bundle pack, voice connections and many more value added services.
A.T. Haque Limited's Managing Director Adam TamijiHaque and Robi's Managing Director and CEO, Mahtab Uddin Ahmed signed the agreement on behalf of their respective organization at the Haque Group's office in Gulshan.
A.T. Haque Limited's Chief Financial Officer, Bipul Kumar Bhowmik, Executive Director, QuaziTouhiduzzaman, Head of Business Development & Logistics, MosfaqurRahaman, Head of HR, Md. Saiful Hassan were present at the signing ceremony.
Robi's Head of Enterprise Business, Md. Adil Hossain Noble, Head of SME, AbulKalam Mohammad Nazmul Islam, Vice President, Md. MahbubulAlamBhuiyan, General Manager, Mustafa Kamal Yousuf and Government & Strategic BusinessManager, KhondokerMosabber Hussain were also present on the occasion.